Dolly Wink eyelash "Real Nude"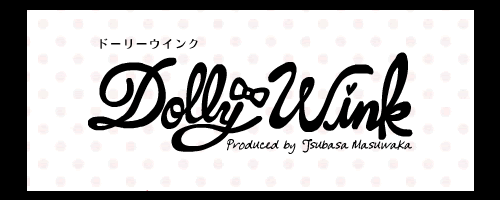 The "Dolly Wink" line consists of several different fake eyelash sets with names like "Baby Cute", "Dolly Sweet", "Sweet Girly" and "Pure Little". There are also eyeliners and mascara available – all in insanely cute packaging, of course. All of these products have the goal of helping you reach the near nirvana state of "adult cute", which is the concept of Tsubasa's Dolly Wink brand.
Right picture is the glue for eyelash
Kemarin saya pergi ke sogo emporium pluit dan mencoba untuk melihat produk ini

Awalnya saya sedikit bingung untuk membeli salah satu dari produk ini disebabkan banyak pilihan model "eyelash" yang lucu dan bervariasa sedangkan saya tidak membawa uang cukup banyak *poor me*. Namun akhirnya setelah memilih cukup lama saya mencoba membeli Dollywink eyelash number 5
Product Description

:
Koji Dolly Wink Eyelash NO.5 Real Nude
Bottom is a bottom false eyelash that helps to create a girly but with a bit of mature feeling!!! Concentrate on naturalness, which uses a random space in between the lashes. Adds a sense to your ordinary lashes to make your eyes vivid.

More easy

More natural

More confident

More convenient

Made in Japan
Dislike


expensive

the packaging is too simple for a high price
And Last is my picture with using dollywink eyelash. It seems in the picture the eyelash look blur

. Sejujurnya aku merasa sedikit aneh dan terlihat tua T_T