Review Etude House Proof10 Liquid Liner
Etude House – Proof 10 Liquid Liner (#1 Proof Black) 1 pc
Waterproof and long wearing liquid eyeliner deftly lines eyes in a highly pigmented, deep black shade. Fine tipped and tapered applicator brush lines eyes with precision, creating dramatic and well-defined eyes with a few quick swipes. Smudge resistant formula prevents the appearance of unsightly raccoon eyes. A staple for every makeup collection.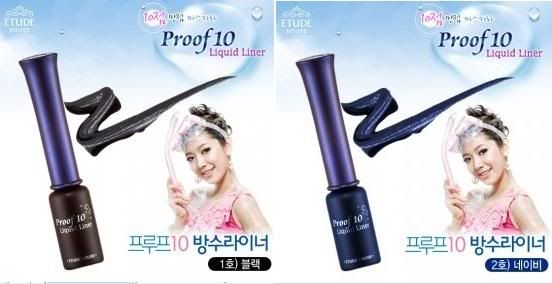 Available in: #1 Black, #2 Blue

Description

:
Proof 10 waterproof eyeliner supplies clean, intense definition for a long lasting Perfect 10 look.Use brush to gather and apply makeup by tracing along upper and lower lashline.
Perfect 10 smoky eye look
What I like

:

Waterproof and smudgeproof.

It dries easily in a rubbery finish.

The long handle makes it easy for me to apply.

Easily removed by a cream makeup remover.

The thin brush gives more control in tracing a line.

Affordable and locally available.
Direction
:
Use brush to gather and apply make up by tracing along upper and lower eyelines
The Proof 10 Liquid Eyeliner by Etude House, I don't know why I bought this,
I was blinded by the shiny-ness, thinking that this was a new product but when I opened it I realised it was not. I can't read Korean,
but I think it claims that it lasts for 24 hours.The colour is very intense looking.
I like this eyeliner. I have to admit that the tip isn't the finest around which makes application a little messy should you not know how to handle liquid liners but I have to say, its extremely waterproof and budgeproof that my Mandom Cleansing Express Lotion could not remove it.
I had to use the Mandom Cleansing Express Eye Make-up Remover to remove the liner thoroughly.

I suppose, using this as a base for eyeshadows will make it really crease/fade proof but do bear in mind to use a really good waterproof makeup remover!